Australia has been one of the few countries that could be considered a COVID-19 success story, and the chart shows why.
We recently came across an article from a publication in Ontario, Canada which highlighted restrictions that have helped other countries flatten the curve. Here are an image and a snippet from that article: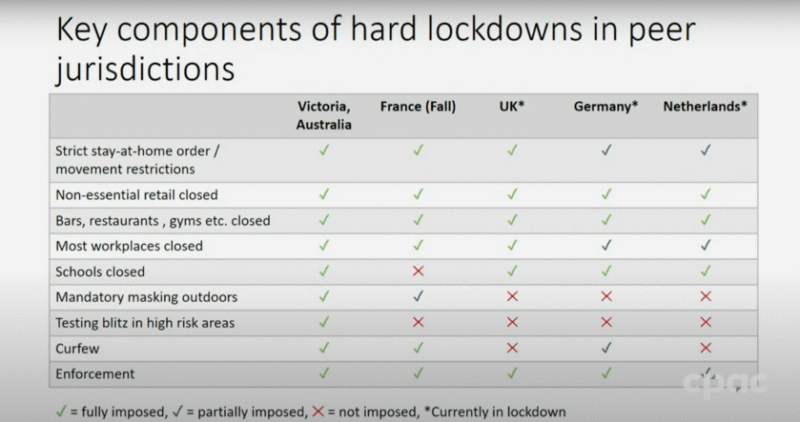 "Australia has been one of the few countries that could be considered a COVID-19 success story, and the chart shows why.
The state of Victoria, Australia, introduced a large number of measures, which included closing schools, shutting most workplaces, mandating masks outdoors, and closing bars and restaurants.
The United Kingdom and Germany are currently in lockdown, but they're not following all of the measures listed.
Ontario is following most of them: there are strict stay-at-home orders; non-essential businesses are closed; some schools in the province are closed; there have been testing blitzes across the province and in schools; and Ontario is enforcing its current measures.  
However, like the UK, Ontario does not have a curfew or mandatory outdoor masking.
In addition, Ontario health officials said that any plan with heightened restrictions would not work unless it also included social supports like an eviction moratorium and paid sick leave."
While it is interesting to look at and learn from other countries, there are several questions that come to mind:
Should it be one-size-fits-all for an entire country/state/province or should these restrictions be based on other factors?
Wouldn't it be better to implement restrictions based on how individual communities are doing health-wise?
And shouldn't community sentiment be taken into consideration when deciding if, when and how to reopen?
Which brings us to a useful tool that helps Government and community leaders take both health and public sentiment into consideration when making important decisions that will impact their communities during the pandemic or other significant health challenges.
Community Confidence combines actionable scientific data with community preferences to enable informed decision making that will restore confidence. It includes a simulator function that allows you to simulate the impact of implementing evidence-based recommendations for your county, versus the predicted outcome of taking no action.
So, when it comes to deciding which restrictions to implement to help your community flatten the curve, make decisions with confidence…Community Confidence!